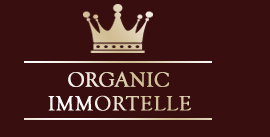 Immortelle (Helichrysum italium) is a strongly aromatic shrub, when dried, the brightly coloured, daisy like flowers retain their colour and shape. Hence, another name for this plant is known as Everlasting. The plant is found native in south of France, Italy, Corsica and the former Yugoslavia.
 The name Helichrysum comes from the Greek word helios (sun) and chrysos (gold) because of the way these plants bloom gives the impression of little golden suns.
 It takes about more than 1 ton of the flowering heads to produce only 800g of immortelle essential oil.  Our Immortelle essential oil is certified organic under ACO & USDA.
 This precious oil offers excellent anti-inflammatory properties and has anti-allergenic agent that makes it suitable to be used in a cases where there is inflamed tissue which needs to be calmed down. It is also a regenerator of cells which enables the collagen count to multiply.
Our Immortelle is available in the following format:

i) - Certified Organic Immortelle Essential Oil
ii) - Certified Organic 3% Immortelle in Golden Jojoba 
iii) - Certified Organic Immortelle Face Elixir


Please contact us via email at info@thenaturalistgrandeur.com.sg or 6339 9981 should you like to find out
more about this blend.